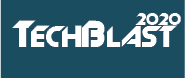 Are you a business manager and interested in AI?
Then you should check out our great new event, TechBlast. It is a new type of networking event that is designed for you to get inspiration about cutting-edge AI technologies in a completely new way. The event will take place in Odense on friday the 6 th. of November.
Sophia the Robot – one of the best androids in the world
We are proud to present Sophia the Robot from Hong Kong for the first time in Denmark for this event. She will be interviewed in English by Nicolai Sonne (Mr. Technology himself), who you might know from the TV programme So Ein Ding on Danish national TV.

Other exciting technologies
Besides Sophia, you can experience the famous Teslasuit, various VR solutions connected to biometric data, as well as a magician who has a special trick up his sleeve especially for this event.
You don't want to miss it!  We promise it will surprise you.