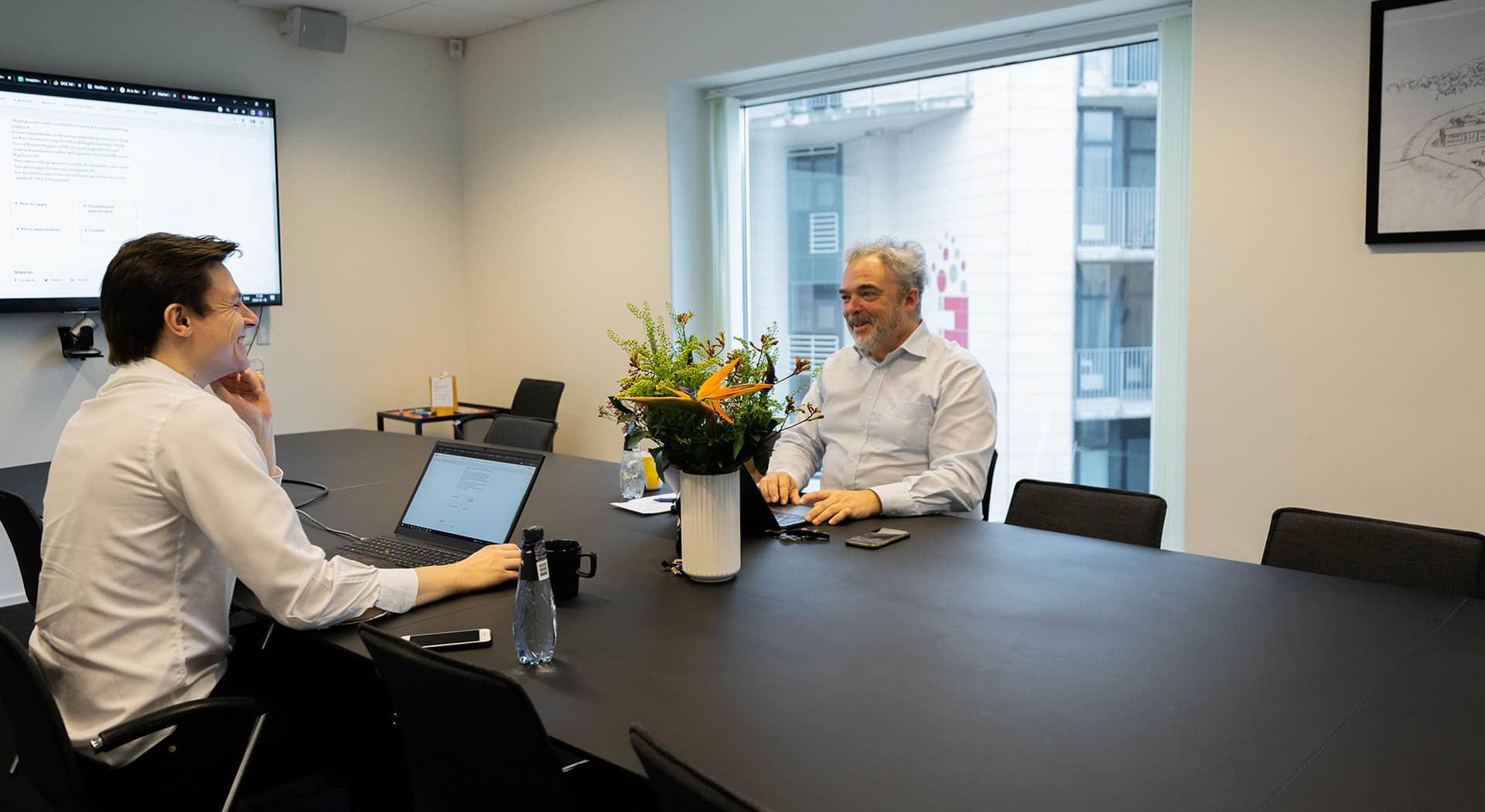 CONFERENCE ROOMS
Conference rooms in Odense close to the motorway
Are you thinking of holding a conference in Odense? Whether it's a small conference with 20 participants or a large one with more than a hundred participants, we can help.
ADVANTAGES
Advantages when you rent conference rooms with Science Parks of Southern Denmark
Our 11 different meeting rooms, 3 seminar rooms and 3 conference rooms fulfil each their purpose. We offer a variety of conference packages and take pride in accommodating your specific wishes and needs regarding your conference.

If you want to hold your conference in Odense, we can offer:
LOCATION
In the middle of the country with easy access to the motorway and only a 1.5-hour drive from both Copenhagen and Aarhus
PARKING
500 free parking spaces by the door and charging stations for electric cars
FLEXIBILITY
Rooms for any kind of meeting, seminar or conference for anywhere between 5 and 124 participants
PEACE OF MIND
The same contact person throughout offers an overview and peace of mind
COMMON AREAS
Large common areas provide optimal possibilities for social interaction and networking
CATERING
Great food throughout the day, which ensures happy and enthusiastic participants
ALL-INCLUSIVE
The conference room, catering as well as AV equipment are included in the package
DISCOUNT
Loyal customers are offered a collaboration deal with a discount
ACTIVITY
We're happy to support you with tours and walk'n'talks of varying lengths
OVERNIGHT STAY
We collaborate with some of the city's best hotels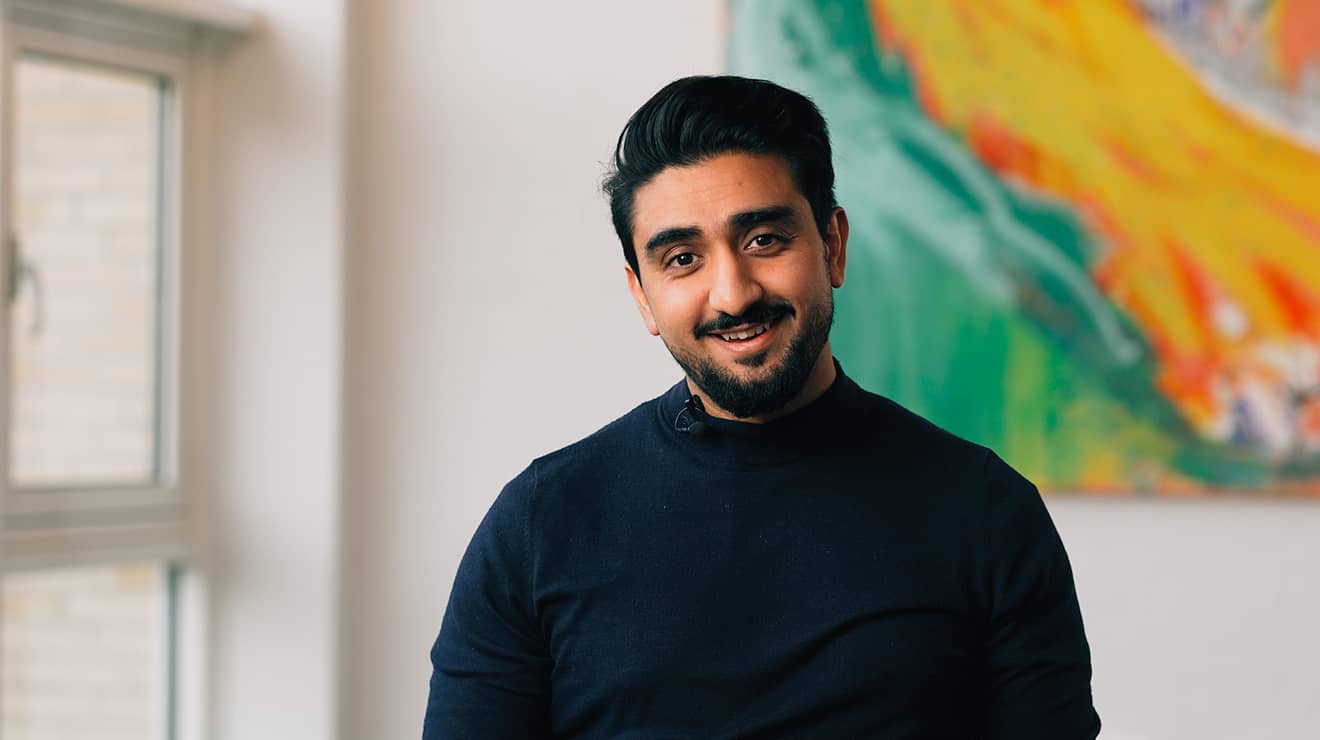 "Perfect conference rooms for workshops and
big presentations"
In both Forskerparken and Videnbyen, we have the perfect framework for holding workshops and big presentations. We are known to the staff who makes sure that everything works to perfection at our events. At the same time, it is easily accessible with great parking facilities.
Arish Ahmad
Lead The Talent
PRICE PACKAGES
What does it cost to rent a conference room?

We offer a variety of conference packages to suit your needs. The below prices cover the rent of the conference room with professional AV equipment and catering. In other words, all-inclusive.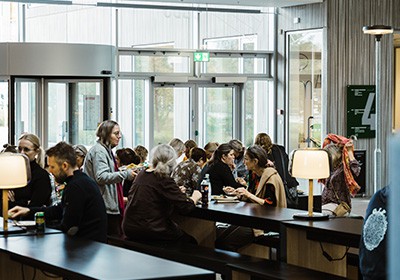 Lecture package
Max. three hours (between 8 am – 4 pm)
Meeting room including AV equipment and free WIFI
Coffee, tea and water ad lib.
Cake or freshly baked croissant
DKK 175 per person (min. five people)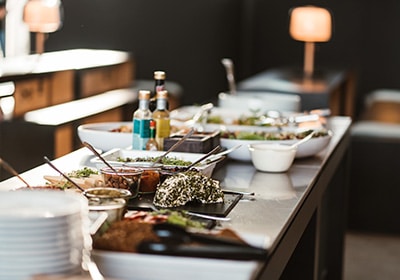 Half day package
Between 8 am – 12 pm or 12 pm – 4 pm
Meeting room including AV equipment and free WIFI
Coffee, tea and water ad lib.
Snacks
Big breakfast buffet (morning)
Sandwich or lunch buffet of the day, including one water or soft drink
Afternoon cake and fruit (afternoons)
DKK 345 per person (min. five people)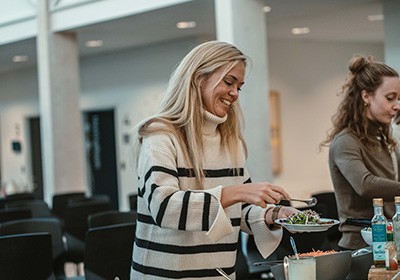 Whole day package
Meeting room including AV equipment and free WIFI
Coffee, tea and water ad lib.
Snacks
Big breakfast buffet
Sandwich or lunch buffet of the day, including one water or soft drink
Afternoon cake and fruit
DKK 445 per person (min. five people)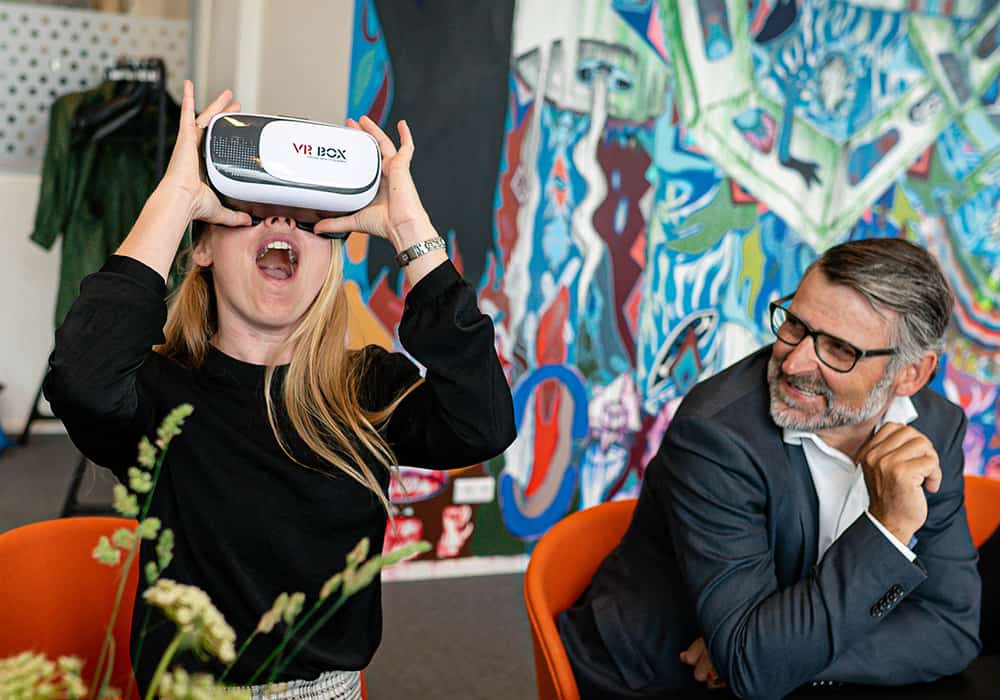 DISCOUNT DEALS
Save 15% on
conference bookings
We are focused sharply on doing better than most and we want to provide our guests with a positive experience so that you will want to come back. How? We spoil our guests on several levels and have a sense of detail. We realise that when there are so many offering the same services, it is the little things that make the big difference.
We offer all our loyal customers a 15% discount on every third conference. You'll get exactly the same high level of service – if not even better as we've got to know your requirements and you know 100% what to expect. The three meetings or conferences must be held within a period of 12 months.
Contact our coordinator Mari and hear more about how to save money on your conferences.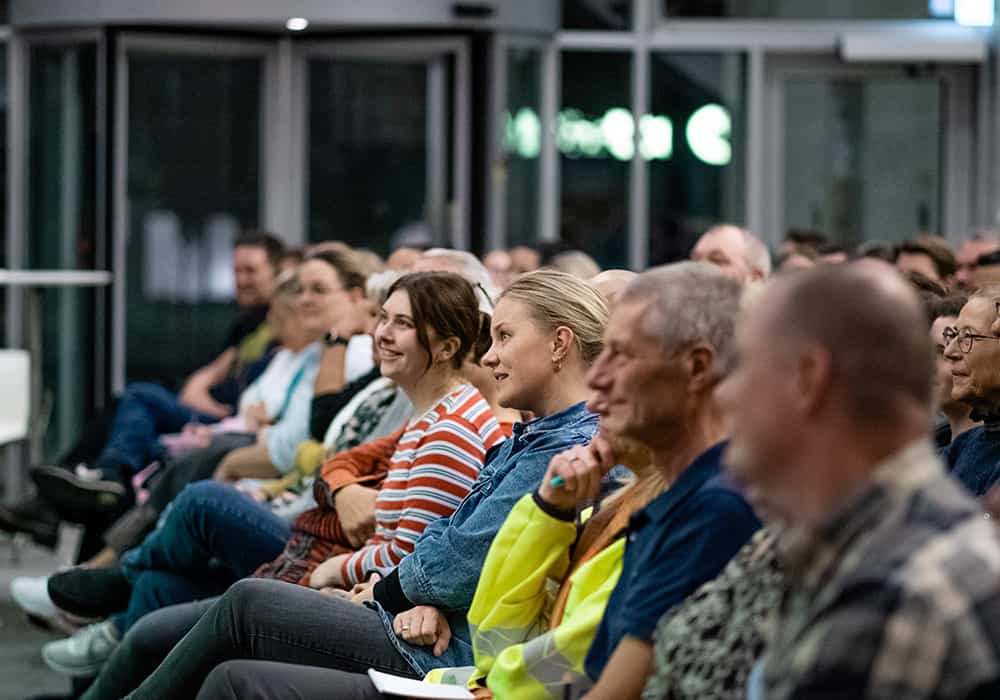 OUR FACILITIES
Which conference rooms do Science Parks of Southern Denmark offer?
If you haven't booked a conference room with us before, it can be difficult to imagine the possibilities.
Below you can see pictures and descriptions of all our conference rooms in Videnbyen and Forskerparken. It will give you a sense of our facilities and whether the arrangement of the furniture suits your purpose.
OVERVIEW OF LOCATIONS
Our conference rooms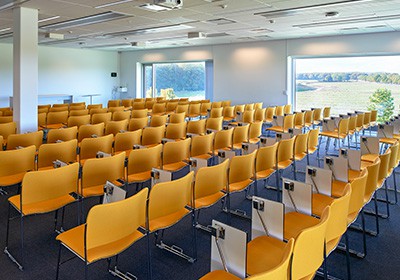 124 people
The Yellow Conference room
The Yellow Conference room is a large and airy conference room with space for 124 guests. It is well suited to seminars, courses and conferences as well as workshops and group work where you want to do several presentations. The room is on the 2nd floor with a beautiful view of the area – there is easy access for handicapped and good toilet facilities right next to the room.
The room has six projectors so that the entire room can be activated and there's the possibility to connect your pc.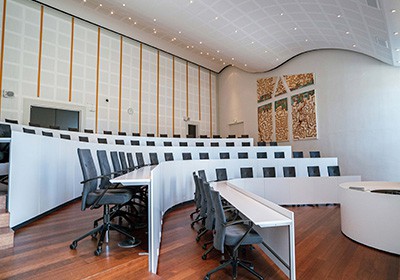 75 people
Auditorium
Beautiful high-ceilinged auditorium with tall paintings by the artist Bo Thobo-Carlsen. The auditorium holds 75 people in a theatre arrangement. The conference room has a bright full HD projector and a sound system with a subwoofer. Furthermore, the room is equipped with wireless microphones – handheld as well as headsets. The auditorium is next to a large café area and a lounge which can be used for exhibitions and workshops.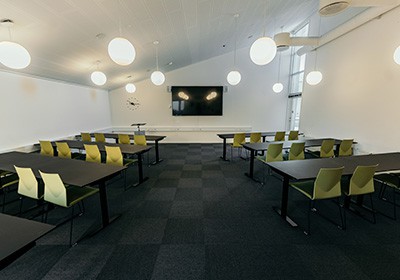 28 people
The Conference
The Conference is our smallest conference room with space for 28 people placed in a herringbone design. From the Conference, there's access to a delightful small terrace. The room is equipped with a 98" screen which is easy to operate. The Conference is on the ground level where there's also a manned reception. Furthermore, there's direct access to our lovely cafeteria, it is handicap friendly and the toilet facilities are good.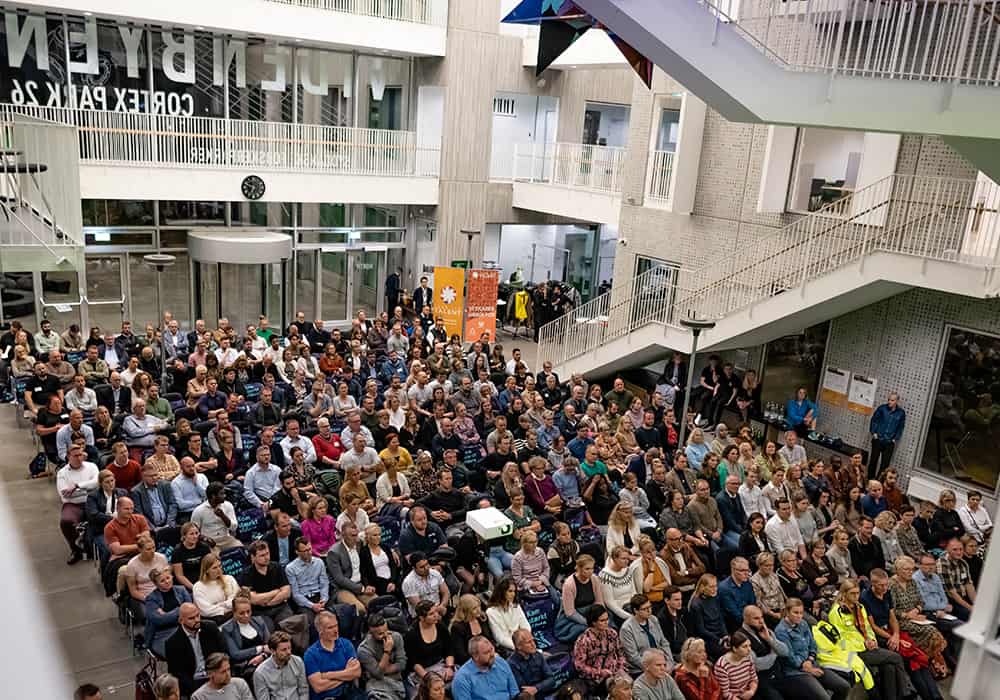 GOOD REASONS
Why choose a conference room in Forskerparken or Videnbyen?
There are several good reasons to rent conference rooms with us. The most important are:
Situated in the middle of Denmark and close to the motorway
Professional facilities
All-inclusive conference package with excellent catering
Lots of free parking
The professional staff ready to service you with a smile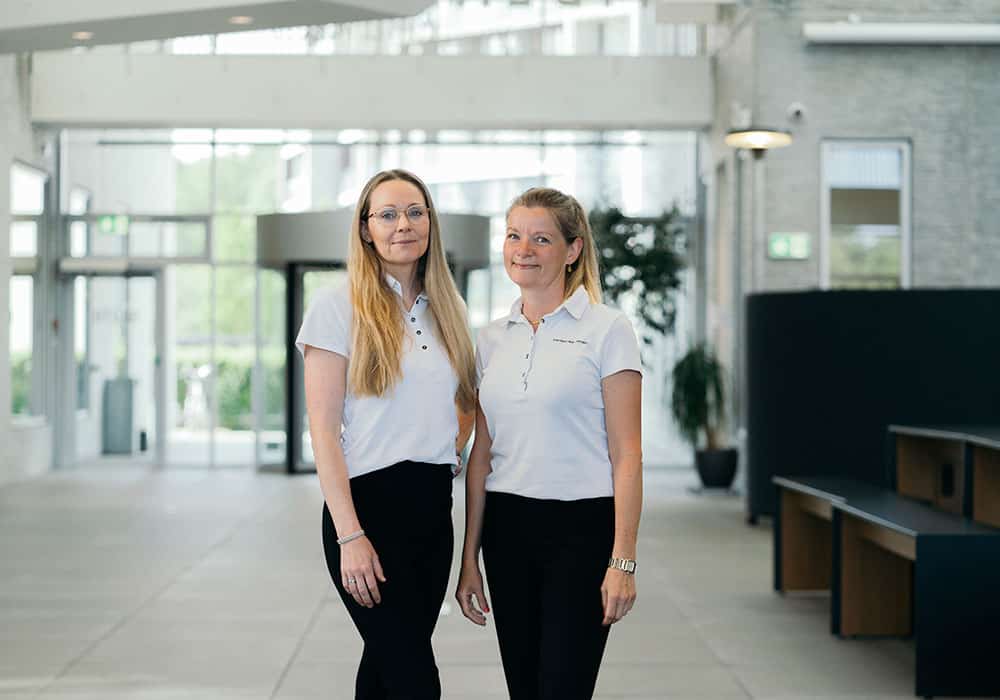 LET US HELP YOU
Let our coordinators
help you
Our conference coordinators offer a high level of service and can offer you the best solutions and the exact right conference package. We're ready to receive you and your guests as soon as you arrive. We strive to offer you the best possible service before, during and after your conference, so you can concentrate on your conference. When you book one of our conference packages you are assigned a dedicated conference coordinator who is at your service throughout the conference.
We can help you with:
Planning your conference with a focus on your purpose
Find the exact right conference room
Receiving guests and guiding
Ideas for activities before/during/after the conference
Booking and coordinating in general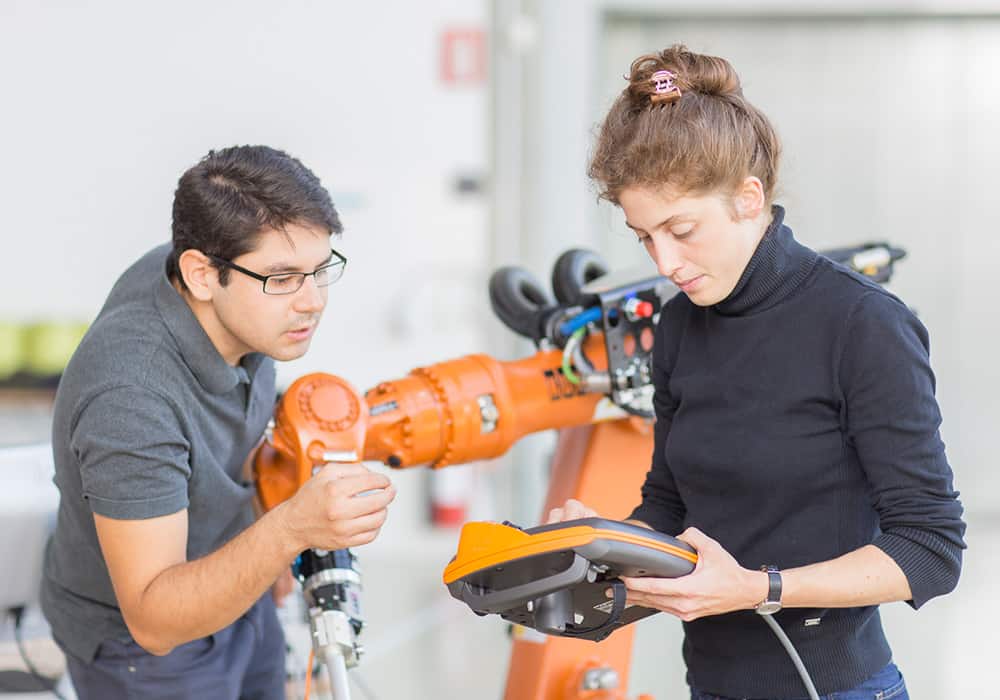 Guided TOUR
Tours with exclusive insights
If you need a break in your meeting, we offer unique tours at the Technological Institute and Nation of Health, both with offices and exhibitions in Forskerparken. Both offer exclusive insights into the newest robot technologies and the Danish innovative solutions in practice.
We offer customer-adjusted and flexible arrangements, which can be varied in length and content so it suits your wishes.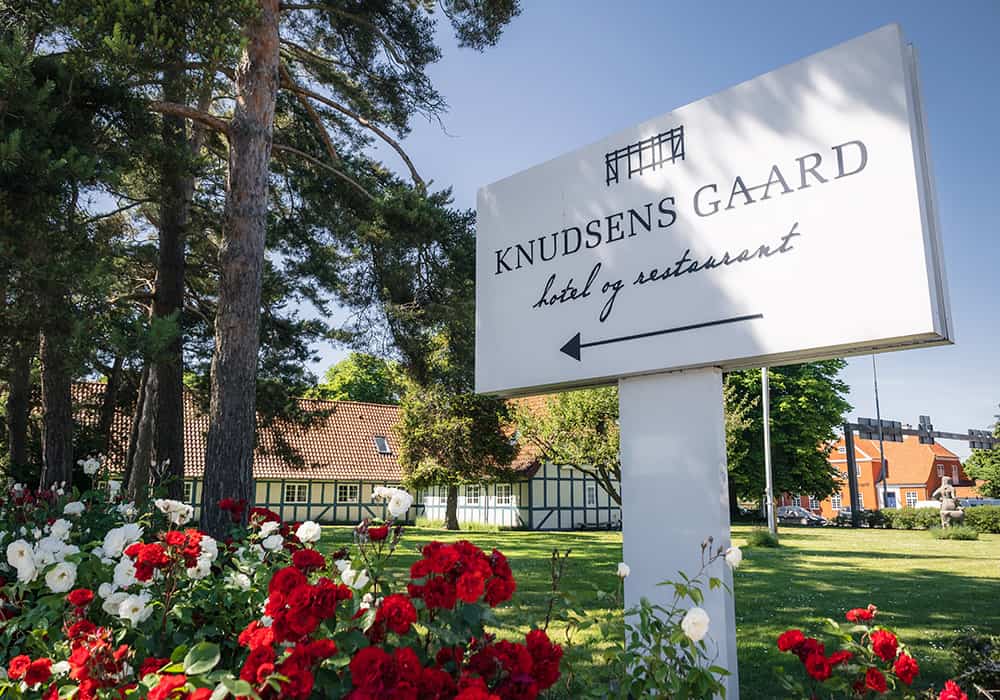 OVERNIGHT ACCOMMODATION
Will you need overnight accommodation in Odense after your conference?
If you or your guests come from afar or if you are planning a big conference over several days, we can also help you arrange overnight stays in nice hotel rooms so that your participants can wake up alert and ready for the day's programme.
We collaborate with some of the city's best hotels, always ready to welcome you when your meeting is over. We will recommend you and your guests to choose the charming hotel Knudsens Gaard, the central First Hotel Grand or the modern Hotel Odense/Hotel Odeon.
FIND US
Find your way to our locations
Find your way to Forskerparken
ARRIVAL BY CAR
When you visit Forskerparken, you can use the large free parking space right outside. If you drive an electric car, you can charge it at the Clever station while you're inside Forskerparken. Forskerparken is situated only a few minutes from the E20 motorway (exit 50) and approx. four kilometres from Odense C.
ARRIVAL BY BUS
The closest bus stop from the train station by bus 161 og 162 is by Stærmosegårdvej – approx. one kilometre from Forskerparken. From the bus stop, called "Munkebjergvej/Stærmosegårdsvej", you'll turn left and cross Niels Bohrs Allé, continue along Munkebjergvej (walk on the left-hand side of the road) until you arrive at Forskerparken. Turn left, then right.
Find vej til Videnbyen
ARRIVAL BY CAR
When you visit Videnbyen you can use one of the many free parking spaces. Remember to orient yourself about the parking rules. We recommend one of the following and if in doubt, do ask upon arrival in Videnbyen.
– Two-hour parking
– Parking towards Niels Bohrs Allé
ARRIVAL BY LIGHT RAIL
The light rail runs almost 24/7. The rail has a stop right across from the main entrance to Videnbyen. The light rail runs from Hjallese in the south to the centre to Tarup in the north. See the timetable here.
FAQ
Get answers to your questions
It is important that you know the objective of the event, the number of participants and the requirement for facilities. Also, you need to know the size of the budget and consider the location of the conference room and check for reviews.
Pay attention to the participants' different learning styles and preferences. Stimulate the participants' curiosity with questions, enigmas or problems that require creative thinking and interaction. Choose a room with an accommodating atmosphere which makes it easier for participants to feel engaged and comfortable in taking an active part in the tuition.
Usually, the number of participants, the type of arrangement and the budget decide whether you need a small or larger conference room.

You can search online, ask in your network, or contact local conference facilities or centres. When you've found a few, visit them personally to see if they fulfil your requirements. You'll check out size, facilities and atmosphere to decide whether they're suitable for your arrangement.
Before you book a conference room you must decide which facilities and services you're going to need. Consider factors such as size, location, accessibility, AV equipment, catering and parking. Then search possible locations online and contact the one that you're interested in and ask for a price sheet. Make a reservation, get a contract and show up on the day when the room is ready for you.
It is important to have an idea about how many attendees you can expect, as this determines how large you need to room to be. If the room is too small it can quickly feel overcrowded and unpleasant for the participants and if it's too large, it can create an empty feeling.
At Science Parks of Southern Denmark, we always help check the equipment before the meeting. We are at your service if you need assistance with sound- and video equipment, internet connection or other technological units.
If the conference room you're renting doesn't already have the equipment you need, Science Parks of Southern Denmark will help you rent extra equipment from third-party suppliers. This could be extra AV equipment or extra furniture.
After the conference, you'll receive an invoice covering the rent and potential extra costs such as facilities or equipment you've rented.
Contact the meeting conference coordinators at Science Parks of Southern Denmark and they'll help you tailor the room to your preferences. This could concern the arrangement of furniture, AV equipment, catering or schedule.
At Science Parks of Southern Denmark, you can both cancel and reduce the number of participants. The rules vary according to the size of your arrangement. If you need to cancel your booking, make sure to always do it as quickly as possible to avoid having to pay a cancellation fee.
At Science Parks of Southern Denmark, catering is always part of a conference booking. You can choose between different packages to find the one suitable to your needs.
Start by making a detailed schedule and checklist covering all aspects of the conference. Keep in close contact with the conference centre to ensure that all your requirements and needs are fulfilled. After the conference, evaluate the result and take notes about what worked well and what can be improved till next time.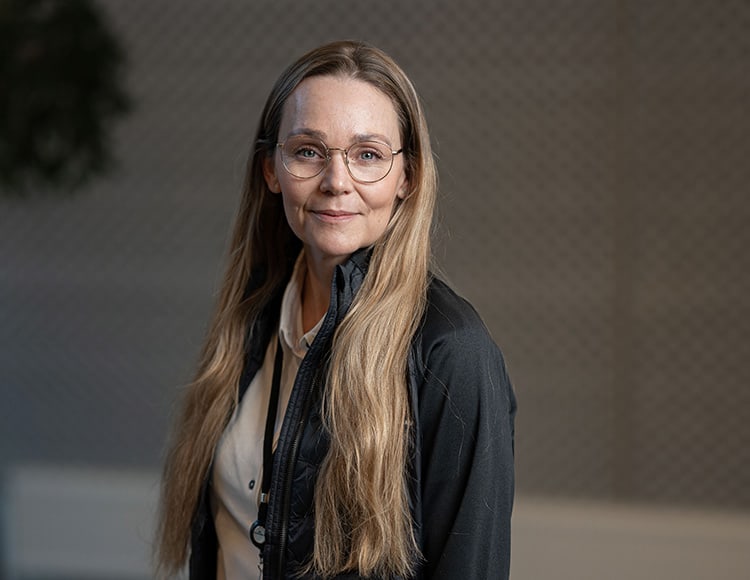 contact us
Are you interested in more information?
If you're interested in hearing more about our commercial leases in Odense, we're always ready to guide you in the right direction and answer your queries.